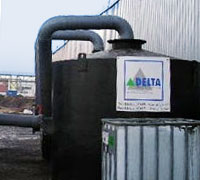 Description/added value
The treatment of air arising from industrial processes or in the context of a remedial action is an important element of the service range of Delta Umwelt-Technik GmbH.
The source of the treated air streams are mostly coming from:
process air from the industry (i.e. foundry, bating etc.)
air arising from desorption steps of a water treatment plant (stripping air)
contaminated ground air
Normally the contaminants are:
dissolvent (BTEX, VOC)
particle and dust
phenole und derivative
odorous substances
Our service
We design and erect individually tailored treatment plants with piping, suction devices and treatment steps all inclusive – also for short term activities.
Depending on the case of operation following techniques are used:
adsorption thru activated carbon
desorption/air washer
thermic catalytic oxidation (burning)
UV photo oxidation in the gas phase
biological filter
oxidation techniques